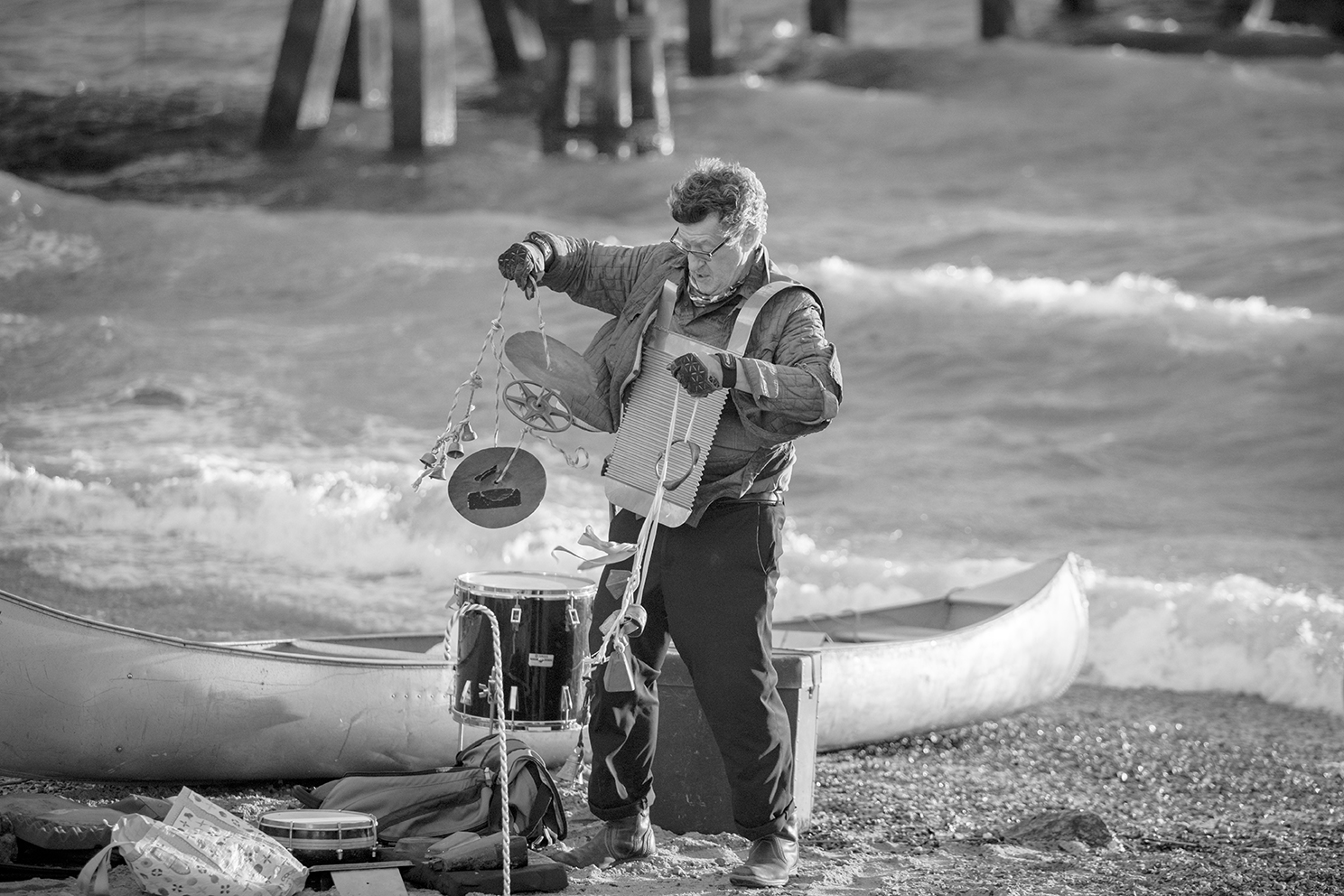 This essay is dedicated to MIchael Evans with deep gratitude and love. To the best of my knowledge, the event described below was his final public performance on this plane. May his charismatic and ingenious spirit live on in the music for generations to come.
What was beautiful to me in the pandemic was that artists were deciding where they wanted to convene and being creative about it, based on where one felt most inspired or free, rather than waiting on invitations from hierarchy zones. Outdoor locations led artists to have more interactions with strangers, non-artists, wildlife, wind, water, weather, moving away from exclusionary energies which can often taint artistic communities. It felt good to put roots and vision back into earth and atmosphere, like getting "back to the garden."
 •No Land
Entropy on the Waterfront
There were three performances planned for the evening: Joanna Mattrey on solo viola, Jaimie Branch on solo trumpet, and the H2Orchestra—a group I convened to perform a water-borne multi­media improvised spectacle with canoes, smoke bombs, dry ice, five saxophones, percussion, projection, and, well, whatever people wanted to do. Two days before the show was scheduled to happen on the tiny beach next to Valentino Pier in Red Hook Brooklyn, I started receiving text messages from friends, informing me that there were predictions of very high winds on the day of the show—sustained at 19 mph, with gusts up to 40 mph. The day before the show, I decided to go forward with the performance, dealing with whatever the weather had to throw at us. I scrapped the dry ice and smoke bombs idea, since the smoke and fog would dissipate too quickly to have much of an effect. I worked for ten hours on floating sculptures made of foam, bricks (as stabilizers and anchors), bells, a large cymbal, and windchimes I crafted out of metal pipes. I was hoping that the inevitable waves would cause the sculptures to make a racket. Artist, photographer, and poet, No Land, came to work on her installation, which involved some kind of river made of paper painted blue that she was planning to lie down on. In the middle of the night, we went out together to test out the sculptures in the water. My weather app indicated that the wind was sustained at around 13 mph—how much worse could 19 mph be? The sculptures bobbed nicely in the water, making the plaintive sounds they were supposed to make, but what visually looked imposing in my small studio was completely dwarfed by the expanse of the water and sky, so I made one more sculpture, larger than the others, with a cymbal and a dangling pipe, attached to several large squares of foam.
The next day, the preparations started early. I loaded up my car with the sculptures and met Kevin Murray and Bradley Eros. The canoes were only a few blocks from the water, but we had to get them off the roof of my neighbor's front-yard metal shop. We untied them and carefully lowered them down. Kevin and I carried the first one ourselves, but, exhausted after just one, we decided to carefully balance the second one on the top of my car (we didn't have straps to tie it down), and slowly drive it over as Bradley and Kevin hung onto it and made sure it didn't fall off. The wind was so strong that one of the sculptures was blown from my hands and torn to pieces as I was carrying it from my car. We were late, and by the time we unloaded everything, several people were already there: Sandy Ewen—who was one of the two people asked to pilot a canoe—Joanna, a photographer, and a few others. As we got the canoes in place, more people showed up, braving the weather, much to my surprise. I had brought a box of wine and distributed it to anyone who wanted some, holding the box on my belly and squeezing the spout into plastic cups, joking that it was my udder. Eventually it came time for Joanna to perform so we all huddled around. She sat on a low cement wall that's supposed to stop the water from flooding the park and sawed away, as if improvising with the fierce wind. The wind was blowing from the water, and if you faced it, the noise on your ears was tremendous—something that I was never acutely aware of until that moment. She was doing everything she could to be heard above the din, and however tremendous the force of nature was, Joanna kept up. Somewhere out over the water, on the New Jersey side, the dark mountainous clouds opened up, and it started pouring. You could see the rain falling down in ringlets only five miles away. There were clouds over us too, not raining down yet, sky peeking through between us and the rain across the way. The sky also was open beyond the rain, and the sun was beginning to set so its rays refracted through the streams of water. Despite the fierce wind, the clouds seemed to stay frozen for a few moments, not moving any closer to our little beach. I walked across the field to pick one final thing up from my car, and from 60 yards away, I was surprised to hear Joanna above the noise as her sound was carried across the field by the gusts. She really was improvising with the weather. Her sound was carried in the wind along with the sand and the salt.
After Joanna finished, it was time for H2Orchestra. No one really knew what it was supposed to be or how to react to the crazy wind. By this point our other canoer, Richard Lenz, had arrived, but we decided that trying to bring the canoes out into the four-foot waves might not be the best idea. We put the canoes halfway in the water, planning to use them more as props than as flotation devices. Michael Evans set up his percussion by one of them. Meanwhile, Lele Dai1 and Gill Arno were beginning to build their installation, which consisted of a long rope suspended between trees with hundreds of streamers attached.
Many saxophonists were setting up at the beginning of the pier, which looked out across the beach: Sam Weinberg, Amirtha Kidambi, Luke Stewart, Patrick McGhee, and Jeff Tobias (two of whom I didn't even invite, which was fine by me). Aliya Ultan was setting up her cello, and Aaron Edgcomb was strapping on some sort of marching band percussion setup. It seemed too windy to safely do any pyrotechnics, which was supposed to be Bradley's job, but he brought a mirror and some gels to filter and reflect the sun's light. (Later, he told me that if he had let go of the mirror it probably would have chopped someone's head off.) I started walking around telling people to start playing, but the wind was too loud for me to announce it all at once, so it took a while before everyone got the memo. The feeling was uneasy. I felt that people were unsure what was going on, if the performance had started, why the hell we were there in the miserable weather, and why I had come up with this ridiculous idea. But maybe that was just my own insecurity. 
For a moment I thought it was a complete dud, but the performance really began when Bradley said, "hey Chris, what if I did. . .this!" as he threw his fifty or so gels into the air and they flew horizontally right at the audience. I was a bit dismayed by the littering and tried to collect as many as I could, but it was definitely a beautiful, colorful flourish. Slowly the saxophonists began buzzing away, until it grew into a swarm-like cacophony of bees. Meanwhile, I went over to the canoe that I had put my sculptures in. I took off my shoes, rolled up my pants, and waded out into the water with the sculptures, throwing them in. The waves were far too much for them. They immediately flipped over, and a few minutes later they were beached. The wires securing the anchors and stabilizers got completely tangled with one another, so the two half-
destroyed sculptures (one had already been destroyed earlier by the wind, as I mentioned) became one Franken-sculpture. I pulled them out of the water and dragged them to-and-fro across the beach, clanging them together and using them as a weird junk instrument. They had looked like trash before they were destroyed, but especially looked like trash now. Meanwhile, Michael had put on some sort of armor that he could play like a washboard on his chest and was walking around scraping it. We wandered through the audience in a demented procession, me squealing on my recorder and clanging my broken sculptures and him scraping away on his armor. Luke and Sam were playing their horns bells together, Borbetomagus style, and No Land was struggling to keep her paper river in place by laying down on it on the beach like some sort of dystopian Birth of Venus. She also had some long poems with her that she called "sea scrolls," holding them out to blow in the gale. She later told me that it was an attempt to "siphon poems into the wind." Gill and Lele's installation was growing, and I realized that the streamers were all different materials and the wind was so strong that the plastic ones were buzzing loudly. I still don't know if they had thought about the sonic content of their installation before it happened.
Richard, who had brought a saxophone also, was waist deep in the waves, wailing on the horn, wearing some Long Island-Beach-Dad type sunglasses and an industrial chain around his neck. The sun came out and beamed its light horizontally across the spectacle, in the same direction as the wind—the sun benevolent, and the wind malevolent—but we were enjoying the abuse at this point. Bradley was now throwing paper airplanes into the air, which flew far away in the gusts. (Someone later found one in a tree about fifty yards away.) At some point, Sandy and Richard thought it would be a good idea to try to get a canoe out into the waves. They pushed the canoe the last few feet until it was fully in the water, threw in some oars, and hopped on. Before they could even get situated, the boat capsized, and they both plunged headlong into the water less than fifteen feet from the shore. I rushed down and tried to drag the boat out. It was heavy with water and took the three of us to extricate it. I reminded Richard that we didn't own the canoes, so we best not lose them. I don't remember exactly how everything ended, but eventually it did, and audience and performers applauded with a triumphant cheer. I liked that the performers applauded as well—it felt like we had accomplished something extraordinary but no one was sure of what.
By then there was a slight lull in the wind, and the sun was fully out, sitting on the horizon. Jaimie stood up on the same cement wall and began playing. Her melodic playing reflected the brief break in the weather. She walked over to the flagpole and invited several of us to play percussion with her. There were a couple of cow bells around, and I had found some large pieces of bamboo we could whack together, so some of us did that. It was a melodic and upbeat foil to the totally unhinged H2Orchestra performance.
The concert at Valentino Pier in Red Hook was in late April 2021, just a few weeks before more-or-less regular indoor shows began for the first time since March 2020. To me, it felt like we had finally come to grips with, and embraced the challenges and joys of, performing and organizing DIY concerts outside, something that was new to most of us during the pandemic. While I am happy that things have returned to some semblance of normalcy in the past months, and the horrors of the pandemic seem mostly behind us, I can't help but think back on the time of guerilla outdoor shows with nostalgia and a sadness that they are no longer occurring with as great frequency or urgency. When I threw my first pandemic show on August 1st, 2020, a few blocks up from Valentino Pier at the Red Hook Ferry Terminal, there was a vitality I had rarely seen at Brooklyn DIY shows in recent years. There were very few outdoor concerts or socializing of any sort happening at that point, which added to the excitement. We got drunk in a huge parking lot, played music for each other, and blasted music out of my car. I drove around in circles as Richard played the saxophone while sitting on the roof (don't try that at home!). The pandemic was a time when many of the city's wealthy left. However, musicians were mostly here in full effect since none of us was on the road for once. This meant it was easier to schedule things, and we all had the time to go and see each other perform and generally enjoy each other's presence.
Another notable concert happened in the fall at the Red Hook Ferry Terminal. I called it the "Friends and Neighbors Orchestra," and the group involved 18–20 musician-noisemakers, two projectionists/light designers (Genevieve HK and Bradley Eros), a Butoh dancer (Azumi Oe), a geodesic dome built by Matt Mottel, and paintings by No Land displayed on huge 8' × 4' pieces of plywood. I used large posters to loosely direct the group from the top of my car. The performance was pure hedonistic overstimulation. Matt Mottel was wearing rollerblades as he played his wireless keytar, and his geodesic dome was on furniture dollies so it could be rolled around. The performance came to a denouement, or anti-denouement, when Richard and Matt totally destroyed the dome, and Richard wheeled on his back—crab-like—on one of the furniture dollies as he screamed into a microphone wired to a small loudspeaker affixed to his belt.
Bringing the Music Outside, in Brooklyn and Beyond
Of course, I wasn't the only one organizing outdoor concerts. As Summer 2020 progressed, outdoor performances proliferated across the city. I had the privilege to interview some other organizers' experiences organizing their own guerilla shows.
Poet/visual artist/musician No Land threw her first show on July 31st, 2020 in a tunnel in Prospect Park that has a waterway going through it. The audience was on one side of the water, and the performers were on the other. "Birds, turtles, and raccoons joined us as audience members," No Land said. She also organized shows in Red Hook and at different locations around Prospect Park. She emphasized that "NYC had a strong spirit of mutual aid during pandemic shows.[. . .] Many shows I organized were fundraisers for food pantries, at the encouragement of artists on the bills." When I asked her about her general thoughts on outdoor shows,
she said:
Most alluring to me is a space where artists can be and feel free. Without galleries or official venues involved, there is little to impede an artist from expressing their vision; they are free from having to seek any approval or permission. Prospect Park's vast fields, especially at night, secluded waterside spots, or desolate street corners are realms where there is little (overt) red tape. One can exhibit large pieces of art in a field or convene a crowd beneath shadowy trees. A painter can set up a large canvas to work, uninterrupted. Convening in spaces where stars and crickets and flowers dwell somehow connects the spirit back to its source—similar to how working in venues of historical artistic lineage can orient an artist in their path or purpose.
John Atkinson and Julian Bennett Holmes organized eleven shows in the summer and fall of 2020. Julian and his wife, Marisha, shared a studio on the corner of Richards and Commerce Streets in Red Hook, and they ran a power cord from the window to power speakers and other equipment. "It's a quiet, non-residential, low-foot traffic corner in Red Hook where the neighbors were just some warehouses that were closed on Sundays and a FDNY garage," John explained. When I asked him about the challenges of booking artists on the street corner, he shared a story of inviting the band
Décor: "Like, I couldn't believe Julian thought we could get away with booking Décor—probably our loudest show and one of my absolute favorites—but we totally did? There were a couple of shows where some cops rolled up and 'watched' for a while, which was fucking nerve-wracking, but they never ended up doing anything." He also pointed out that it wasn't just the pandemic that created the need for outdoor shows: "The catalyst for this series and the whole vibe last summer wasn't just the pandemic: it was also the month-plus of protests in NYC after George Floyd's murder. After months of insane quarantine, in June, me and everyone else suddenly launched ourselves out of our quarantine hatches to get on the streets with thousands of people every single day and night, even though no one really knew how risky it was in terms of COVID and, in addition to the changes that it made politically, it also kinda proved that you could hang out in groups pretty safely so long as you were outside and masked." When asked if they would continue doing outdoor concerts, Julian said, "I plan to do some outdoor shows this summer, but the urgent need is no longer there."
Brackish, a series organized by Jaimie Branch and Angela Morris, continued their programming starting in late September, with four concerts throughout the fall. Each concert was in a different location, each with its own merits. "We wanted to be able to reach people with different accessibility needs, too, so if one location was a bit of a trek into the park then another show would be accessible by paved streets the whole way" Angela explained. She also commented on the fact that the outdoor concerts opened up the music to new audiences, as passersby took notice: "So many kids were at the shows, and so many people stopped on their way by to listen. When we arrived at the Rose Garden [in Prospect Park], before we'd even set anything up, some passersby stopped to ask what was about to happen with a sense of total wonder. That show had more than 100 audience members, which is far-and-away a record for the series." 
The first show Samantha Riott organized was on November 6th at Grand Army Plaza, which was, coincidentally, the day Biden was announced as the victor over Trump as well as that day's epicenter of the Brooklyn celebrations and anti-Trump protests. Samantha told me that she wasn't aware of what was going on in the streets until some friends told her to check out social media. All the mayhem at the site of the performance called for improvisation: "It was supposed to be under the arch, but we switched it to just in front of the staircase to the fountain. That took a while because the people who were on the bill were too busy chanting in protest of Donald Trump. It started late, so by the time I finally got to start the show it was already 8 pm." (The show was supposed to start at 6 pm.) The performances themselves were fitting for the time and place. Samantha explained, "What I was doing was a spoken word mashup of lyrics from the Last Poets and my own ad-libing about the political climate, and I know Amirtha was doing her own politically motivated speech."
Bradley Eros, who has been organizing events of all sorts in New York for decades, had his own special take on outdoor performances. While he organized some more conventional (only by comparison) shows in Le Petit Versailles Garden in the East Village and on the Bushwick roof venue called Synesthesia, he also organized gatherings to take place precisely at the time of astronomical events. I attended all three of the gatherings: the winter solstice, the spring equinox, and the summer solstice. Bradley insisted on not just having the performance on the day of the astrological event, but at its precise time. The winter solstice was at 5:02 in the morning on December 21st at Joseph F. Mafera Park in the farthest reaches of Ridgewood, Queens. Being a night owl, I opted to just stay up all night and, at around 4:15 am, I made some whiskey-spiked coffee and drove the 25 minutes to Queens. While they weren't exactly exclusive events, these performances were more informal gatherings for a group of artist-friends than full-fledged concerts. We convened behind the baseball field, which was then completely covered in snow. Friends MV Carbon, Gill Arno, Lele Dai, No Land, Genevieve HK, and a few others were in attendance. As each astronomical event occurred (the solstice, astronomical twilight, civil twilight, dawn, etc.), something would happen: a sparkler would be lit, a poem would be read, or someone would play an instrument. As the sun came up, we spread out across the field and made noise on our instruments. I climbed up to the top of the baseball cage over home plate and played my recorder, and Gill made a fire so we could keep warm. The field is bound on one side by the subway tracks, and as subways rode by, I ran alongside, playing my saxophone for the unwitting travelers on their early-
morning commutes.
Bradley has a unique take on performance and told me a particularly touching story in a recent conversation we had. He described a performance he does sometimes with six crows in Joseph F. Mafera Park, which is right by his apartment. "They are a gang: two go on top of the really high lights, two are on the fence, and two are on the ground, and they switch places. I go there at dawn and hang out on the asphalt. And the crows are doing a crazy performance around me. I know they recognize me, and I recognize them. It's just me playing duck calls and the crows doing their crow thing, and it's a performance for the seven of us. I think they are trying to initiate me into the gang."
1 Lele Dai seemed especially in her element in these outdoor shows. A couple months ago I saw her perform on the street in Chinatown with trash she had found around the neighborhood. Her spontaneous installation, which involved many contact mics hanging from a tree, a Roomba, pages from children's books, traffic cones, food crates, and many other objects, was both very much of the neighborhood and not of this planet.